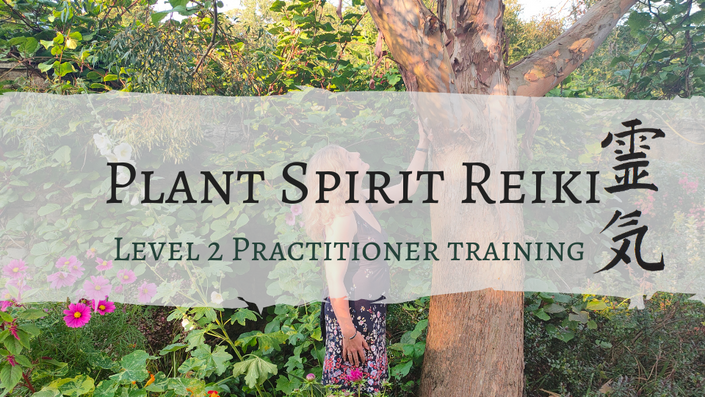 Plant Spirit Reiki Level 2
12 month certified Plant Spirit Reiki Practitioner training
A 12 month online certified training program for Reiki Level 2 practitioners teaching how to bring the benefits of Plant Spirit Reiki into your client Reiki practice.
Helping you power up your Reiki practice and offer new ways of healing to your clients with the plants and elements of nature that whisper to you and are waiting to guide you.
The course teaches:

Plant connection techniques and how to interact with plant guides

Interpreting and integrating plant teachings, healing and medicine.

Basic home herbal medicine and preparations and flower essences

Practical exercises with plants in your home and on your doorstep.

Plant Spirit Reiki practices and techniques for working on personal healing

Plant Spirit Reiki techniques for client treatments in professional practice.

Practitioner skills

Intuitive skills and shamanic senses

Seasonal energetic alignment and empowerment
You will:

Discover the healing power of trees, herbs and flowers as spirit helpers for your Reiki practice so that you can work with them to

enhance your Reiki practice

.

Develop your intuitive and shamanic senses so that you can feel more confident in your abilities
Feel guided to offer the vibrational medicine of plants to your clients helping them feel better mentally, physically and emotionally.
Learn about herbal remedies, flower essences and essential oils so that you can confidently select plant medicines and preparations that you are drawn to.

Develop your personal Plant Spirit Reiki practices so that you

feel connected, grounded and supported

on your Plant Spirit Reiki path

Experience an energetic expansion with Plant Spirit Reiki and the ability to magnetise and manifest a more soul aligned and abundant life
Learn the skills to take your Reiki practice to another dimension and

feel clearer about your path and authentic message.
Also includes:

Reiki Nature attunement to open your connection to nature, strengthen your connection to reiki and help you act as a stronger channel for the plants and the natural kingdom.
Option to receive certification and qualify as a Plant Spirit Reiki Practitioner (following receipt of case studies)
This course is closed for enrollment.
Nature based therapy, plant medicine and Reiki are each powerful, holistic methods of healing, when used together their power expands and reveals new ways to heal and grow as we come into alignment with our own true nature.
Twelve Month Practitioner Training Course Outline

Month 1:
Reiki practice: Review PS Reiki Level 1 learnings and plant connections.
Plant Connections: Focus on Trees
Plant Medicine focus: Introduction to Herbal preparations and actions
Personal practice: Plant allies and developing intuition
Month 2:
Reiki practice: Client method one and plant prayers
Plant Connections: Herbs and plant profiles
Plant Medicine focus: Herbal infusions
Personal practice: Plant prayers and automatic writing, developing intuition
Month 3:
Reiki practice: Client method two
Plant Connections: Herbs and plant profiles
Plant Medicine focus: Herbal bathing and foot soaks
Personal practice: plant sound and movement, developing intuition
Month 4:
Reiki practice: Client method three and healing toolkit
Plant Connections: Herbs and plant profiles
Plant Medicine focus: Flower essences
Personal practice: Flower essence making
Month 5:
Reiki practice: Plants and chakras, aura cleansing
Plant Connections: Herbs and plant profiles
Plant Medicine focus: Essential oils
Personal practice: Soul crafting and room sprays
Month 6:
Reiki practice: Distance Plant Spirit Reiki Client practice
Plant Connections: Nature beings and landscape healing
Plant Medicine focus: Infused oils
Personal practice: Soul crafting and infused oils
I did a workshop with Fay on plant spirits where we connected and communicated with plants. This may sound weird but the plant told me to get out there and share my gifts with the world. I then left the place I was working at. I started a business, did a healing course and now I am moving! Thanks Flower, you spoke, I listened and took action!!
- Carry-Anne Hornsey, course participant
This is your opportunity to embrace those parts of nature that speak to you and enrich your Reiki practice. You will discover new ways to heal and grow for your clients and come into alignment with your path as an earth conscious healer.
What is included and how does it work?
12 monthly modules accessed via the online portal
12 live online core curriculum classes (recorded for you to replay)
12 live online plant wisdom circles (recorded for you to replay)
Engaging video lessons with Fa

y

4 x day online seasonal workshops/retreats

Closing ½ day online ceremony

Monthly reiki share

Plant Spirit Reiki techniques to bring intuitive healing into your Reiki practice
Plant and herbal medicine teachings
PDF course notes
Worksheets for self-reflection and intuitive guidance
Watch online or offline whenever you choose
PLUS
Facebook group
Option to certify and qualify for Reiki Level 2 Practitioner Training
Nature Reiki attunement
Contact Fay for class dates
(all classes are recorded and replays available)

Your Instructor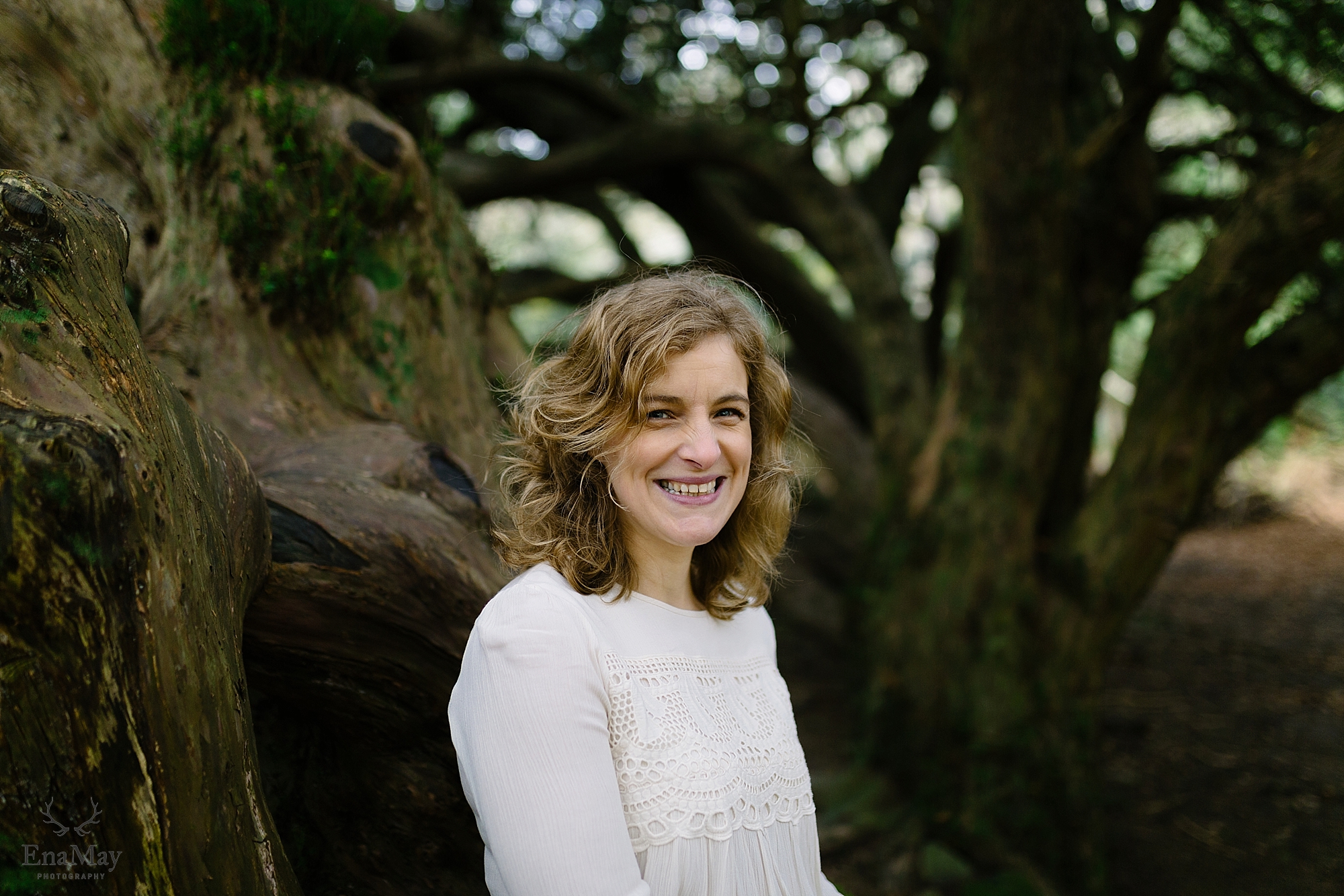 A Reiki Master Teacher of Usui Shiki Rhoyo and the founder of Plant Spirit Reiki, I am passionate about connecting plants and people to help Earth conscious healers experience the alchemy of nature and discover your unique way of aligning with your inner magic.

I draw on my experience as a former owner of a flower and herb farm, 20 years of Reiki Practice and Shamanic Training to help you open to open to whispers of nature.
I work with Reiki, meditation, gardening, plant medicine and Shamanic techniques. By honouring the seasons and elements, living in close connection with Mother Earth I believe we can feel supported and guided by the natural world and experience transformation and growth on both a personal and planetary level.
My books are available here:
Plants that Speak, Souls that Sing
and
Plant Spirit Reiki
Visit www.fayjohnstone.com for more info!
Plant Spirit Reiki Level 2 Practitioner Training is for you if:
• You are attuned to Reiki Level 2 (or above) and have already completed Plant Spirit Reiki Level 1
• You would like to incorporate plants, plant medicine, flowers, flower essences, herbal teas or nature in some way into your Reiki practice.
• You sense that it's your role to help raise the vibration of our planet by aligning yourself and working in partnership with the natural world in some way.
I am reconnecting to who I am and loving more what is. I now feel a strong sense of get up and go and of having fun. The process has given me permission to take care of me, put myself first in order to have the energy for what I do. My whole body seems alive with excitement. It had been easier for me to hide, I am now ready to be who I really am on my path. I want to continue to sparkle. A lot has come and continues to come, I just can't thank you enough.
- Gilly Gordon, Course participant and Shamanic coaching client
This course is closed for enrollment.
Frequently Asked Questions
I live in a city - can I benefit from this course?
Yes!! The exercises and practices in the program encourage you to start exactly where you are. If you don't have access to a park, woodland or other natural landscape, you are encouraged to invite the outside in. You can work with a house plant, and learn the same skills to connect with the spirit of the plant
I have no previous experience, can I join this course?
You will get the most out of this course if you have already completed Plant Spirit Reiki Level 1 and are trained to Reiki Level 2 or above. Without this training, you may still participate in the course, but you will not be able to apply for Practitioner certification to practice professionally.
Will this course help me work as a herbalist?
This training is for certification as a Plant Spirit Reiki practitioner, through the energy of plants and Reiki. If you are seeking to train as a medical herbalist I encourage you to learrn from a herbalist in your local area to understand the medicinal properties of the plants where you live. The course will cover basic herbal uses, actions and preparations to deepen your understanding and will also provide a more holistic view of plants rather than limit a plant's medicinal power to its physiological and physical characteristics. You will be able to create more potent holistic medicines using the approach in this course.
What if I already work with plants, spirit guides and/or nature beings. Is this going to be too basic for me?
No! If you feel called to join this course as part of your Reiki journey then follow that nudge! This course will encourage you to look at all of your current practices and ways that you work with Reiki, spirit guides and plants with fresh eyes and a new perspective. Our path to wholeness and working with spirit unfurls in layers and there is always something to learn from even what we might first perceive as simple teachings.
I might need some extra 1:1 assistance, is this something you offer too?
Fay also offers one to one healing, mentoring and shamanic coaching visit www.fayjohnstone.com for details.
How long do I have access to the course?
Lifetime access for as long as the course is running! You can access whenever you need to and also it's possible to download the content too.
I'm on the fence about joining and the investment feels huge, what should I do?
Plant Spirit Reiki Level 2 training is way more than just a course. It is offering you the opportunity to gain a new qualification and enhance your Reiki practice with the blessings of the natural world. You will be forever inspired and supported as you open to feel a richer and deeper connection with the natural world. The teachings come with professional support and a supportive Facebook group where you'll be a voice among a community of like-minded plant people who are sharing this Plant Spirit Reiki journey with you. If you still feel unsure then sit in Gassho, invite Reiki to flow and ask to be guided.
I'm busy, and don't have much spare time to study, how long does the course take?
Every 2 weeks we meet for a 1.5 hour live online class. These are available on replay if you cannot attend live. Additional course material will also be provided on the online platform. The amount of time you take on the practical exercises and client practice is up to you. The plant spirit path is like a spiral, it is not a linear process. The time that you put into the connections with the plants reaps rewards! You have as long as you need to access the content and complete case studies. Though, I suggest you aim to get this done within a year so it is fresh in your mind.
What if I am unhappy with the course?
We would never want you to be unhappy! If you are unsatisfied with your purchase, contact us in the first 30 days and we will give you a full refund.
I am not attuned to Reiki - can I still do this course?
This course is aimed at those who are trained in Reiki. If you are not attuned to Reiki, you will not access all of the benefits of Plant Spirit Reiki. Ideally you will be trained to Reiki Level 2. If you are not trained to Reiki Level 2 or above, you can still experience the course, however, you will not be able to receive certification until you are trained in Reiki Level 2. If you would like to learn Reiki then please visit www.fayjohnstone.com
More Green Magic awaits you!
I'm excited to assist you on your Plant Spirit Reiki path, help you develop your intuitive plant connections and guide you to become a practitioner!
This course is closed for enrollment.